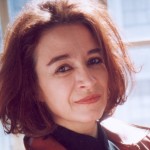 GABRIEL BAUR
a.k.a. Gabrielle Baur
DIRECTOR FILM AUTHOR PRODUCER
Gabriel Baur got to film through visual arts, drama and cultural anthropology. After completing her MA in Cultural Anthropology, Psychology and Mass Communication with a Master thesis about film at the University of Zurich, she made her first short films at the Film school of New York University 1983/84. In-depth study of directing and dramatic technique experience with Wojciech Marczewski (PL), Krzysztof Kieslowski (PL) and Frank Daniels (USA. Collaboration as actress, cinematographer, assistant director and director for film, theatre and television. From 1983 to 2001 she filmed and lived for several years in metropolises such as New York City, Berlin, Mexico City and on the war front in Central America/Nicaragua.
Gabriel Baur received national and international awards, her films and scripts as director and author include: "Cada Dia Historia" (Every Day History, NIC/CH 1986/87); "Die Bettkönigin" (Queen of Bed, CH 1994), "Venus Boyz" (CH/DE/USA) that has become a classic in its field, with an International Premiere at the Berlinale 2002, Theatrical Releases in Europe and the USA as well as 50 festivals worldwide like Karlovy Vary, IFF Locarno, IFF Moskau, IFF Warsaw, Taipei Golden Horse or Mostra Sao Paolo; TV, Homemarket and Streaming sales. Or her latest film "Glow", World Premiere Zurich Film Festival 2017 and theatrically released 2017/18 in Switzerland, Broadcasting, Streaming & Home Market Releases for the German speaking area 2020. The US Release of "Glow" through First Run Features is scheduled for June 2023. Projects in development – "Takotsubo" Feature and "Matrix Love" Feature Documentary.
Co-founder of ONIX Film 1983 and ONFEATURES Film in 2008, Baur's films as producer/ co-producer include "Venus Boyz", "Glow" or "Nordland" by Ingo J.Biermann (2014).
In 1990 she became European Delegate for the Swiss Filmmakers Association ARF/FDS. She has been a lecturer at private and public universities, among which Zürich University of the Arts ZHDK/ MA Film till 2010. Publications. 2005 Patronage Film for the first national transdisciplinary forum "Forum des artistes Bienne".
During 2010 – 2014 Gabriel Baur was Vice-President of the «Federation of European Film Directors» FERA that represents around 20'000 European Filmmakers. 2014 she co-initiated the first Swiss gender data collection & study in the Swiss Film Industry, published in 2015. Co-founder of SWAN Swiss Women's Audiovisual Network as well as SWAN Association, she was Co-president of SWAN Association from 2018 till 2021 and presently Special Consultant SWAN. Currently, she is living and working between Zurich and Lisbon.
Gabriel Baur is a member of the European Film Academy EFA and the Swiss Film Academy,
FILM PROJECTS (Selection)
GLOW
Documentary Feature, 2017, CH/DE
Co-producer, Director, Author and Co-editor.
Worldpremiere Zurich Film Festival 2017, Theatrical Release Switzerland 2017/18. Broadcasting/Streaming, DVD in German speaking area 2020, planned US Release/First Run Features Filmverleih (date not yet definite).
NORDLAND
Feature, 2014, DE/CH
Co-producer. Supported by the Federal Film Board FFA.
A film by IJ.Biermann and Stephan Schoenholtz
A Silverio Films und Onfeatures Film Production
in Co-production mit the Deutschen Film- und Fernsehakademie DFFB and Myrland Films
AMOUR FOU IN PROCESS
Feature, 2010, CH/DE
Author/Screenplay. Supported by the Bundesamt für Kultur,
the Filmstiftung Zürich, Succes Cinema,
Kuratorium des Kanton Aargau and ONIX.
VENUS BOYZ
Documentary Feature, 2002, CH/DE/US/GB
Co-producer, Director, Author/Screenwriter and Co-editor.
Over 50 International Festivals. World Premiere Locarno Film Festival 2001, Internationale World Premiere Official Selection Berlinale 2002. Awards a.o. Winner Best Film – Locarno Film Festival – Semaine de la critique, Nomination Swiss Film Award.
Theatrical releases in DE, FR, SW, NL, AT, BL, IT, CH and USA, National and international TV-sales & DVD releases.
THE QUEEN OF BED
Feature, 1994, CH
Co-producer, Director and Screenplay/Author.
National and International Festivals and Awards,
Theatrical release CH, TV DE
THE EXCEPTION AND THE RULE
Experimental Film, 1992, A/CH
Author/Screenplay, Director and Editor.
Art exhibitions, theatres,
special screenings
LULUTOPIA
Feature film project,1990, ch
Author/Screenplay and Director.
Winner national competition 1990
CADA DIA HISTORIA
Documentary, 1986, NIC/CH
Co-producer, Author, Director and Editor,
in cooperation with Kristina Konrad.
National und International Festivals,
Art House Distribution CH/DE, TV/DRS
ONE TO ZERO
Short fiction, 1984, US (missing/negative abducted in N.Y.C,
useful information welcome)
A TALE
Short fiction, 1984, US/CH (Part of "Anna")
Co-producer, Author/Screenplay, Director and Editor.
Worldpremiere Solothurner Filmtage, Festivals